Outdoor Rocking Chairs
Create the perfect focal point for your front porch with comfortable POLYWOOD® outdoor rocking chairs. Our rocking chairs constructed from HDPE lumber boast superior craftsmanship and are a breeze to maintain.
Why POLYWOOD?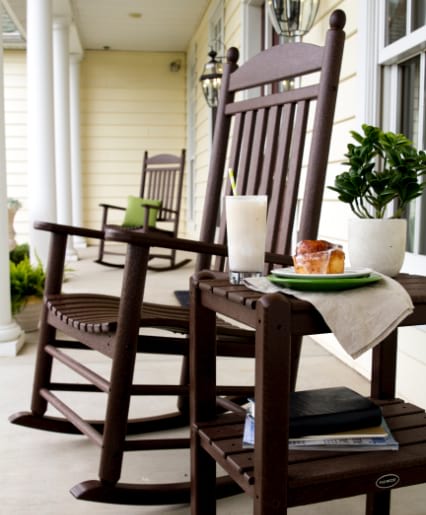 At POLYWOOD®, we use all-weather HDPE lumber to construct our variety of outdoor rocking chairs which makes them unrivaled in durability and craftsmanship. With an outdoor rocking chair that's designed to last for generations on your porch or back patio, you can finally enjoy the contoured support and comfort you need without worrying about continual maintenance. You can spend hours in your outdoor rocking chair in simple self-reflection or watching your children and grandchildren play without experiencing any aches or pains.
We have a variety of outdoor rocking chairs that would make beautiful additions to any outdoor living space. Whether you live out in the countryside, in the bustling city, or at the edge of the ocean, there's a POLYWOOD outdoor rocker that's made just for you. If you're looking for modern rocking chairs, Adirondack rockers, classic outdoor rocking chairs, or simply colorful rocking chairs, POLYWOOD has a variety of outdoor rockers designed to any lifestyle.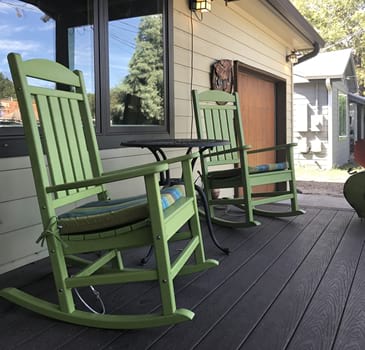 Great design. Easy assembly.
"I love everything about these rockers! Great design, very comfortable and assembly was so easy."
Rocking Chair Colors
At POLYWOOD we believe outdoor rockers should be both comfortable and beautiful — they're a front porch staple after all! Of course, beauty is in the eye of the beholder, which is why we offer our colorful outdoor Adirondack, deep seating, and traditional rocking chairs in a variety of hues from vivid greens to earthy browns. We blend UV inhibitors and stabilizers into our HDPE lumber so the color you love will remain vibrant year after year.
Outdoor Rocking Chair Features

Weatherproof
Unlike other rocking chairs for the outdoors that you'll replace each season, POLYWOOD weatherproof outdoor rocking chairs are built to withstand all four seasons and a range of climates including hot sun, snowy winters, salt spray, and heavy winds.

Low Maintenance
When you're in the market to buy an outdoor rocking chair, be sure you'll spend your time relaxing, not maintaining. Genuine POLYWOOD lumber ensures each of our outdoor rocking chair designs cleans easily with soap and water and never requires painting, staining, or waterproofing.

Recyclable
One of the most unique features of our outdoor rocking chairs is that they're infinitely recyclable! Each day, we transform truckloads of recycled milk jugs into genuine POLYWOOD lumber to construct our wide array of outdoor rocking chairs styles.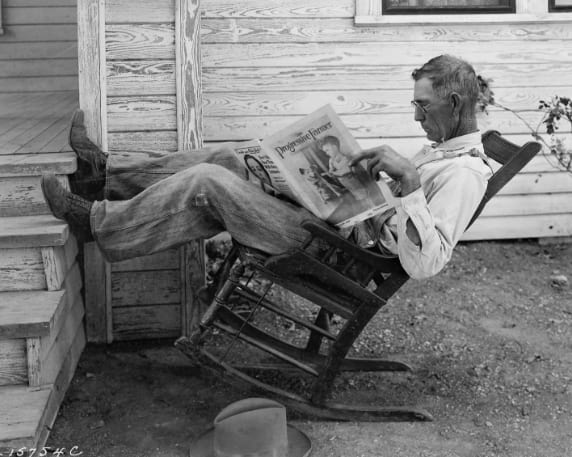 History of Rocking Chairs
Just like genuine POLYWOOD lumber, the rocking chair was invented in America. Although no one knows just who invented the first rocker, we know the classic rocking chair design was inspired by rocking cradles and rocking horses (which had been around for hundreds of years before the rocking chair made its debut). Believe it or not, the rocking chair was actually created to be used outdoors, but as time went by the rocking chair found its way inside homes. Today rocking chairs are found both indoors and outdoors and are universally known as a spot to relax and unwind.
Where To Enjoy Your Outdoor Rockers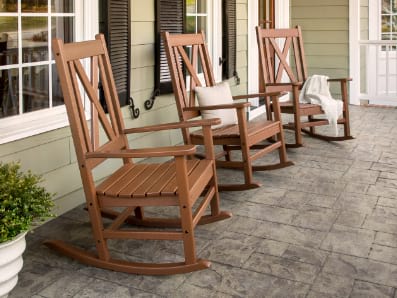 Porch Rocking Chairs
On the front porch, on the back porch, or on a wraparound porch… a front porch rocking chair looks great anywhere (and creates a comfortable and relaxing spot just where you need it).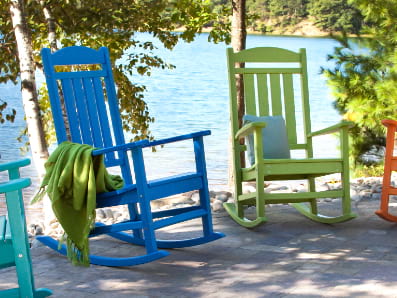 Lake House Rocking Chairs
There's nothing more relaxing than listening to the waves roll up on the shore. The rocking motion of an outdoor rocking chair mimics the back and forth movement of the waves so you can get an enhanced sensory experience right in your outdoor living space.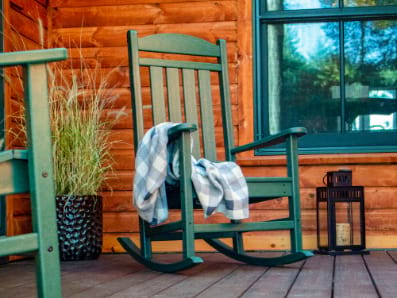 Cabin Rocking Chairs
Whether your cabin has a view of the mountains or a river, or it's shrouded in beautiful woodlands, a rocking chair for outdoors would only add to the relaxing experience.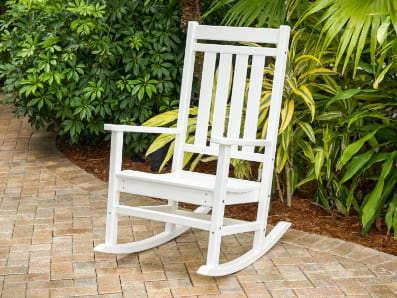 Patio Rocking Chairs
Some strategically placed outdoor rocking chairs would add warmth and a sense of welcoming to your patio. Pairing the rocking chairs with a coordinating outdoor side table or with pieces from our deep seating collections would complete the comfortable and attractive look.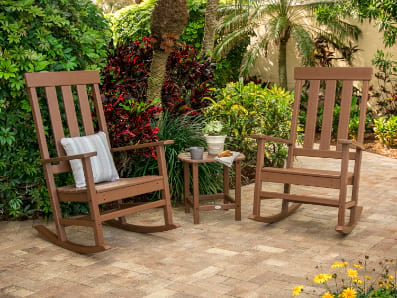 Beach House Rocking Chairs
A calming view of the water can certainly make anyone happy to be outdoors. Adding a few outdoor rocking chairs to the back deck of your beach house would enhance your relaxation and enjoyment of the beautiful view.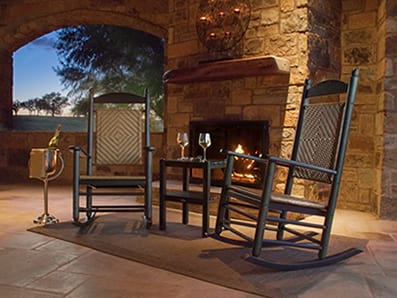 Three Season Room
Put your rocker in your three season room so you can enjoy the outdoors even when the weather isn't cooperating. The sounds of a thunderstorm coupled with the gentle rocking motion of your outdoor rocking chair makes for a soothing experience.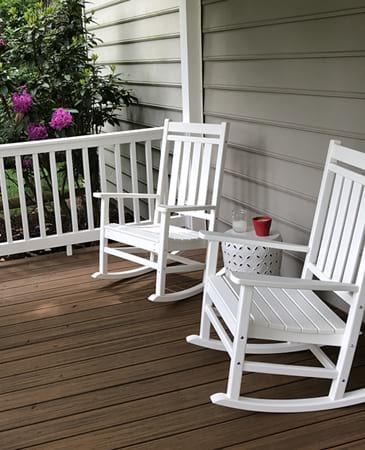 Exactly the rockers we were looking for!
"These rockers were exactly what we were looking for. They are the perfect size for our porch, easy to put together, and have a good weight to them so they do not blow away or move. We especially like the material and how easy they are to clean. They are comfy and the backs are tall enough to rest your head against as you rock. We recommend!"
Rocking Chair Sets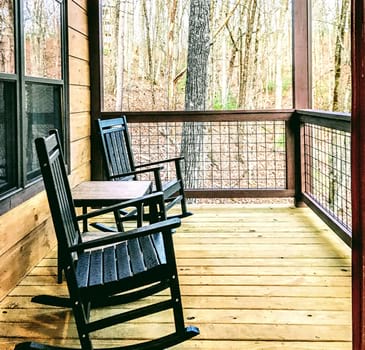 Great chairs!
"The Estate Rocking Chairs are great for relaxing on the deck. I love that they were easy to assemble, require little to no maintenance, and last forever!"
Rocking Chairs FAQs
Can I leave my patio rocking chairs outdoors all year long?
Yes! Our weatherproof outdoor rocking chairs are constructed from durable HDPE lumber, making them resistant to harsh weather conditions and other outdoor elements.
How do you clean POLYWOOD patio rocking chairs?
All you need to do to clean one of our rocking chairs is scrub the surfaces with soapy water and a soft-bristle brush, then rinse with clean water.
What are the most popular porch rocking chairs at POLYWOOD?
Our top 5 best-selling outdoor rocking chairs are:
... Read More
Does POLYWOOD have high-back rocking chairs?
The rocking chairs that we offer with the tallest backrests are our traditional and Adirondack rocking chairs. They have backrests that are all close to the same height — varying between 28 and 30 inches depending on the rocker.
What is the weight limit on POLYWOOD rocking chairs?
Our rocking chairs can hold up to 400 pounds.