Outdoor Rocking Chair Sets
Rely on the timeless comfort and impressive durability of a POLYWOOD® rocking chair set complete with side tables, ottomans, conversation tables, and fire pit tables that bring any outdoor event to life.
2;

WHY POLYWOOD?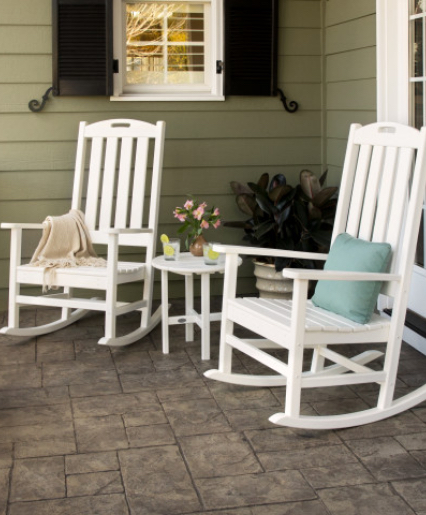 You deserve to spend as much time as you can relaxing in your outdoor space, which is why POLYWOOD has curated outdoor rocking chair sets so you can spend less time coordinating furniture and more time enjoying the company of friends and family.
Each of our beautiful outdoor rocking chair sets is different and will meet a variety of style needs. Whether you want a set of two for a cozy spot in your garden or enough to fill your wraparound porch, we have what you need. We're proud to say that POLYWOOD furniture is American-made, each piece is designed with the comfort of our customers in mind, and we only use the finest recycled materials to construct our outdoor furniture.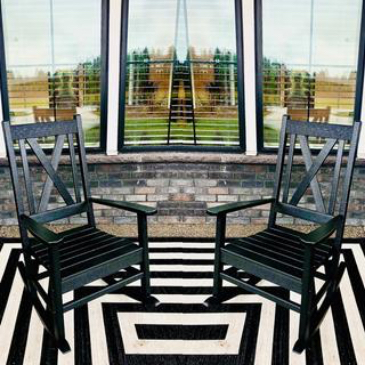 "Love these rocking chairs! Design is exactly what I was looking for to put on our front porch. The chairs work well for my husband who is 6'4 and me at 5'6!"
Rocking Chair Set Frequently Asked questions
What are POLYWOOD rocking chair sets made from?
Our rocking chair sets are constructed from genuine POLYWOOD lumber, a durable material made from recycled ocean-bound and landfill-bound HDPE plastics.
Can POLYWOOD rocking chair sets be left outside during the winter?
Yes! Our outdoor rocking chair sets can handle harsh weather conditions and environmental stressors.
How should I clean my outdoor rocking chair set?
The only things you'll need to clean your rocking chair sets are a bucket of soapy water and a soft-bristle brush. After giving your set a good scrub, rinse each piece with clean water.
Are POLYWOOD outdoor rocking chair sets comfortable?
Yes! We've designed all of our outdoor rocking chair sets with your comfort in mind. Many of our rocking chairs feature contoured seats, reclined backrests, and waterfall fronts — all things that will enhance your relaxation. If you want
unbiased opinions about our outdoor rocker sets, please check out the reviews left by our happy customers on the individual product pages.
...Read More
Does the color of POLYWOOD's outdoor rocking chair sets fade overtime?
When creating genuine POLYWOOD lumber, we blend in UV-inhibited pigment systems to help maintain our lumber colors throughout the material, not just on the surface. Our lumber colors remain vivid year after year,
so your rocking chair set's color will look just as good in 10 years as it did the day it arrived at your home.
...Read More
OUTDOOR ROCKING CHAIR SET FEATURES

Weatherproof
Our outdoor rocking chair sets can handle all types of weather and environmental conditions such as blizzards, humidity, heavy rain, strong winds, harsh sun, and salt spray.

Low Maintenance
Genuine POLYWOOD lumber is used to construct our outdoor rocking chair sets, so they're easy to clean and won't ever need to be waterproofed, painted, or stained.

Durability
You can enjoy your rocking chair set for a long time because the genuine POLYWOOD lumber used in each set is backed by a 20-year warranty.

Sustainability
We make our genuine POLYWOOD lumber from landfill-bound and ocean-bound plastics, which in turn keeps our planet healthy.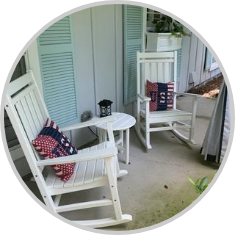 "Great front porch rockers. Handles the hot west afternoon sun well."
OUTDOOR ROCKING CHAIR SET COLORS
POLYWOOD furniture is available in a variety of long-lasting and fade-resistant colors. We blend UV inhibitors and stabilizers into our HDPE lumber, so you can expect the color to remain beautiful season after season.
Choose from a wide variety of gorgeous colors and patterns from our HDPE lumber, outdoor cushions, and all-weather wicker material. You'll be able to pick the hue to fit your needs and represent your style whether you want a white rocking chair set for your charming garden or a black outdoor rocking chair set for your contemporary-styled patio.
WHERE TO ENJOY YOUR ROCKING CHAIR SETS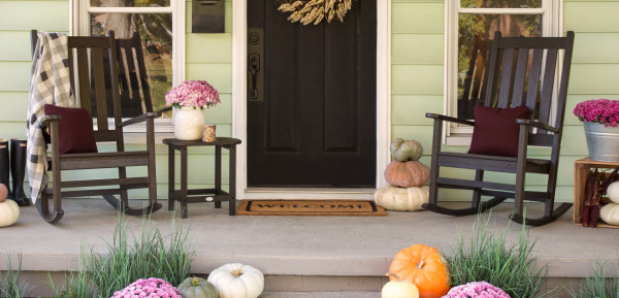 On Your Porch
You and a loved one can sit for a spell on your front porch, just reclining together on your Vineyard 3-Piece Rocking Set, an outdoor porch rocking chair set that is perfect for relaxation.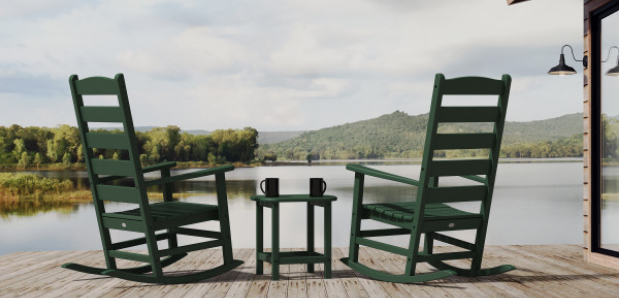 At Your Lakehouse
Relax on the Shaker 3-Piece Porch Rocking Chair Set in the evening as you watch the sunset over the lake on your patio. This outdoor patio rocking chair set is sure to become your favorite relaxation spot.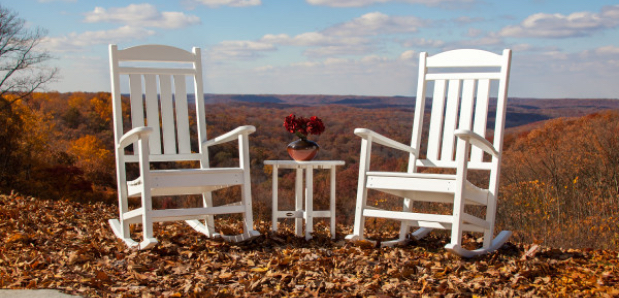 At Your Cabin
If you have a view of the mountains from your cabin, sit back in an outdoor rocking chair set while you admire the landscape. Unwinding on a Presidential 3-Piece Rocker Set will only enhance nature's show.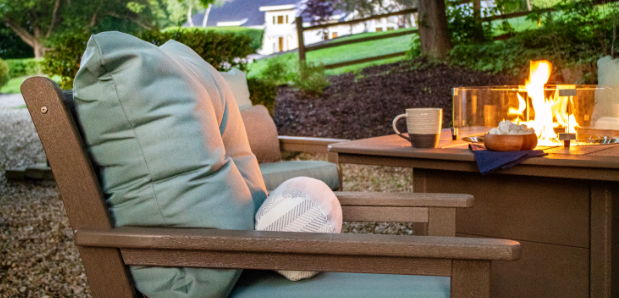 Around Your Fire Pit Table
Keep warm and stay comfortable in your outdoor space with the Vineyard 5-Piece Deep Seating Rocking Chair Conversation Set with Fire Pit Table. Enjoy fireside chats with friends, roast s'mores, and make cool evenings cozy with this outdoor rocking chair set paired with a fire pit table.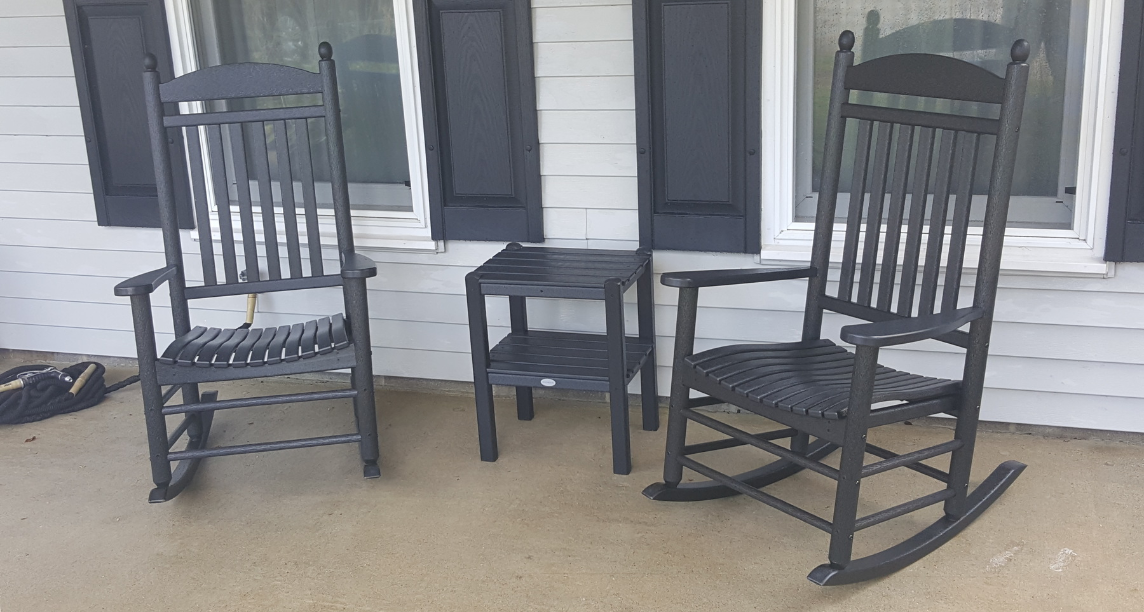 "We just purchased the Jefferson rockers and side table and couldn't be happier. They look great on our front porch and are very comfortable."
STYLES OF ROCKING CHAIR SETS