Fire Pit Tables
Your backyard just became the new hot spot in town. Designed for easy entertaining and worry-free ambiance, our outdoor fire pit tables create an atmosphere that's at once cozy and convivial—don't forget the s'mores!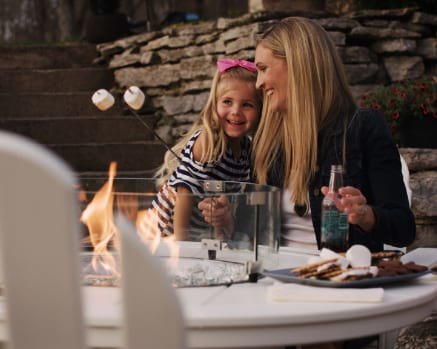 No matter the climate, square footage, or decor style you're working with, our outdoor fire pit tables let you see your space in a whole new light. Easy to coordinate with our patio furniture collections, these weatherproof designs work beautifully to bring warmth to decks, docks, patios, and poolsides. 
Genuine POLYWOOD lumber is made from sustainable materials, including landfill-bound and ocean-bound plastics, offering what wood and other plastics simply cannot—eco-conscious outdoor furniture that lasts. Good for the planet and even better for busy lifestyles, our patio furniture is low maintenance, easy to clean, and fade-resistant. All of our furniture is designed and proudly made in the USA.
"Its sleek design in Black matches our POLYWOOD Modern Adirondack Chairs. On low, it gives off enough comfortable heat, especially during Florida "winters." On high, it looks spectacular with the sparkling glass stones and produces enough heat to keep us warm on super chilly nights. The table is large and stable enough for cocktails, a charcuterie board, and snacks, which makes it perfect for gatherings or a casual date night."
Square 42" Fire Pit Table, purchased Dec. 2021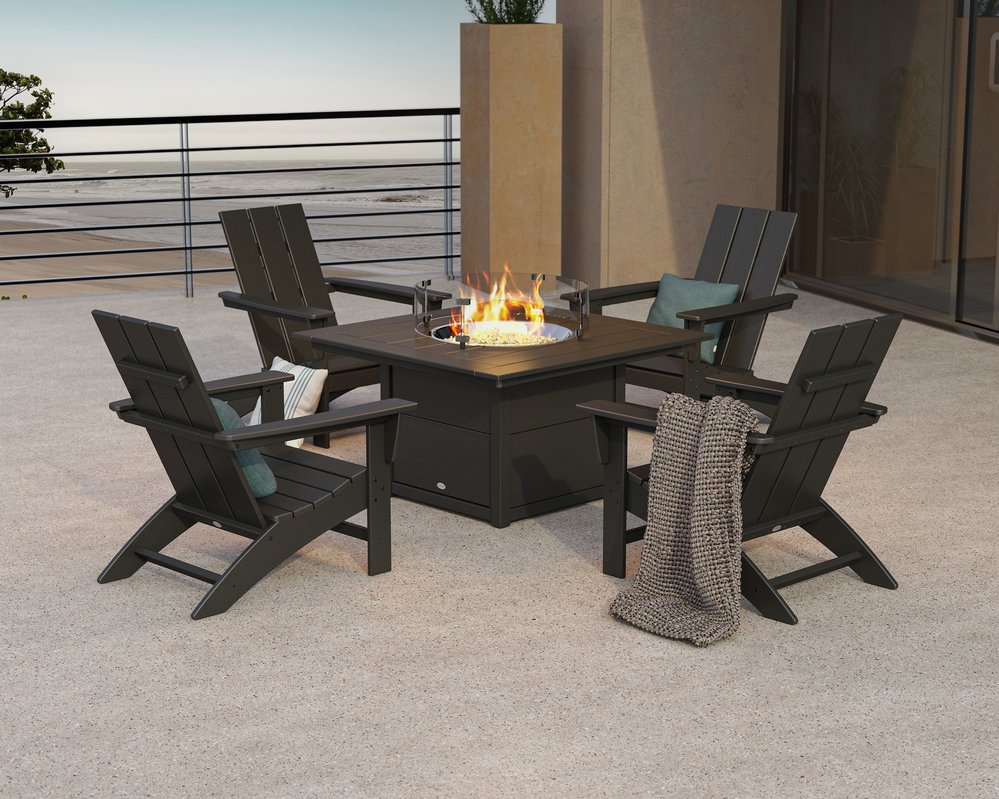 Choose from a variety of colors to coordinate with your existing decor or to add tonal contrast. Not sure how to decide? Try Brown for a one-with-nature look or Black for a modern edge. For a versatile hue that pairs with virtually every color palette, Grey is a surefire option (and a customer favorite). We always blend UV inhibitors and stabilizers into our HDPE lumber for rich, lasting tones.

Easy come, easy glow. Keep your table looking as good as the day you got it with a little soap and a quick spray or wipe down. We also include a waterproof cover with every purchase.
We understand that outdoor furniture is an investment, so we back all of our products with a 20-year promise of continued enjoyment and quality you can count on.
This is not your average patio furniture. Our materials are made to withstand any type of weather, from morning dew drops to the sizzling summer sun.
Designed with extra surface around the circular fire bowls, these dual-function designs combine the convenience of a coffee table with the coziness of a hearth. The round table measures 48 inches in total diameter, while the diameter of the bowl itself is approximately 20 inches. This gives you 14 inches of surface for s'more supplies, wine glasses, or coffee mugs. 
Our square table features a 42-by-42-inch tabletop with a 19-inch fire bowl. This leaves roughly 11 inches of usable space on all four sides. Both tables stand at about 23 inches tall—just the right height for seated conversation.

Do fire pit tables give off heat?
Yes, they generate heat. The intensity of the heat, however, will vary on the size of your table and the pit itself, as well as the fuel source used. Gas fire pits are rated for heat output in BTUs (British thermal units). The higher the BTU, the hotter the fire.
What is the difference between a fire pit and a fire table?
Fire pit tables are attractive outdoor features with a base, top, and fire bowl components. Fire pits can be something as simple as an in-ground hole enclosed by stones or pavers.
How does a fire pit table work?
Most tables use a propane tank or natural gas to create a fire without any smoke, soot, or scent. They often feature a push button that ignites the burner. Made to use in lieu of logs, fire table fillers like glass gems or lava rocks work to centralize the flames and allow for the airflow needed to keep them stoked.
Can you put a fire pit table under a covered patio?
Yes, you can put POLYWOOD fire pit tables under a covered patio*. Our clean-burning designs are fueled by either propane or natural gas and feature an incorporated glass wind guard to safely contain flames, even on breezy nights.



*Always research your local fire and building codes for any regulations or rules against installation and placement.


An elevated take on summer camp style, Adirondack Fire Pit Table Sets feel both new and nostalgic. Available in a range of chair silhouettes and two table shapes, this is the choose-your-own-adventure of patio furniture settings.
This is the place where stories are shared and memories are made. Our Rocking Chair Fire Pit Set is the very definition of an inviting atmosphere, where everyone wants to go and unwind as the day slowly turns to night.
Cozy, meet comfort. With the chairs' cushions and extra elbow room, our Deep Seating Fire Pit Set keeps the party going, whether that's a friendly game night, s'more roasting spree, or simply an evening where the only thing to do is nothing at all.
Ready for endless family fun around the fire pit? Let's get glowing with expert advice about how to choose the right one for your outdoor space.
FIND OUT HOW