Outdoor Dining Sets for Your Patio
Let's go out for dinner. Bringing the versatility of interior design to outdoor living, POLYWOOD® outdoor dining table sets transform backyards, patios, and decks into world-class dining destinations (where you always have a standing reservation).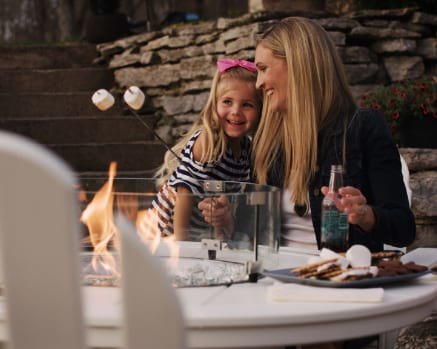 All of our patio furniture is designed to meet the demands of daily use and seasonal weather. Every style, from modern to classic to transitional, comes with our promise of lasting durability and weather-resistant capabilities. For any large dinner party or impromptu let's-invite-the-neighbors night, the crowd-pleasing 9-piece and 7-piece outdoor dining sets offer more elbow room and fit best with spacious backyard and patio settings. Smaller, more intimate meals call for our 5-piece sets, sized just right for cozier spaces and families of four.
Our outdoor patio dining sets are not only stylish—they're sustainable too. Each set includes a table and chairs (cushions sold separately) constructed from sustainable materials including landfill-bound and ocean-bound plastics. Good for the planet and even better for busy lifestyles, our genuine POLYWOOD lumber is low maintenance, easy to clean, and rust resistant.
"The customer service is excellent. I would receive an email throughout, giving me the status. Then I needed to change my delivery address and the lady who helped me was prompt and efficient and very kind. I would recommend this product to anyone who wants top quality and professional service. Thank you!"
La Casa Café 5-Piece Dining Set - PWS132-1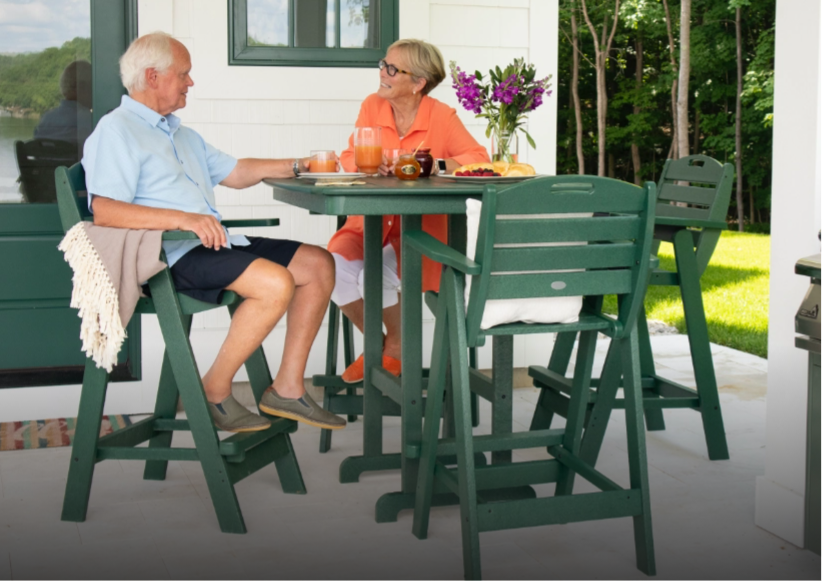 Choose from a variety of vivid, enduring colors to coordinate with existing décor and the vibe you're going for. Brighten things up with a classic White outdoor dining set, draw inspiration from nature with neutrals like Sand or Teak, or modernize your space with Black. We always use light-stable pigments, stabilizers, and UV inhibitors in our lumber to protect the product's color and integrity against outdoor elements.
Outdoor Dining Set Features

Unlike other outdoor materials like wood, metal, and resin, POLYWOOD's fade- and rust-resistant products are made to last. Our proprietary HDPE lumber braves all of the elements, including UV rays, gusty winds, winter blizzards, and high humidity.
We believe you should spend your time enjoying outdoor furniture, not maintaining it. We only use materials that quickly clean up with soap and water (no painting, staining, waterproofing, or furniture covers necessary).
Made to be loved through all stages of life, POLYWOOD furniture is guaranteed to last for 20 years—that's a lot of birthday dinners, family get-togethers, and lively conversations under the stars.
How to Choose an Outdoor Dining Set
Your space, style, and lifestyle are all important factors to consider when purchasing outdoor dining furniture. Whether you entertain every weekend or just want to create a functional space for everyday meals, our range of outdoor dining sets offers plenty of options that are easy on the eyes—and oh-so-easy to care for.
We've simplified the process by creating a comprehensive guide with expert advice on how to choose the right table, chairs, and other furniture based on your needs. So if you're looking for a setup that makes for a dreamy dining experience in your own backyard, you've come to the right place. Easy, breezy outdoor entertaining starts here.

Can you leave POLYWOOD dining sets outside all year long?
POLYWOOD furniture is built to live outdoors during every season. Even if you leave it outside 365 days a year, you can rest easy knowing that it won't get damaged by harsh weather or environmental stressors.
Can you mix and match chairs and tables to make your own POLYWOOD dining set?
Yes. We curate popular sets using pieces from our collections so you can visualize what a dining set will look like—but feel free to take the design reins and pair any dining chairs with any dining table. The same goes for any bar- or counter-height table and coordinating chairs.
What is the weight capacity for chairs in the POLYWOOD dining sets?
All of our outdoor dining chairs are tested to ASTM standards and have been rated for commercial use at up to 400 pounds.
Do the POLYWOOD dining tables come with an umbrella hole?
Most of our dining, counter, and bar tables come with a 1.625" center hole for a standard patio umbrella. A hole cover is included. To remove the cover, pop it out by pressing up from the table's underside.
Can you fit more chairs around POLYWOOD dining tables than the number of chairs the set comes with?
You can add more chairs around our dining tables if you choose. It might be a tight squeeze even though our tables are spacious, so we'd recommend sizing up for a more comfortable fit.

Types of Outdoor Dining Sets

Dine in the sunshine. With spacious tabletops and supremely comfortable seats, our outdoor dining sets are a must-have for enjoying meals and moments alfresco.
S'mores around fire pits, happy hours on docks, warm beverages at sunrise: life is good with POLYWOOD 3-piece bistro sets. Apartment dwellers can enjoy these small-scale designs on their balconies as well.
The perfect complement to small families or double-date nights, our 5-piece outdoor dining sets are ideal for an intimate setting and those just-because dinners outside. (We also hear they're great for clocking in a few work hours, weather permitting.)
Blur the line between indoor and outdoor living with our 7-piece outdoor dining sets. Supremely versatile and suitable for both intimate and large groups, these roomy dining sets are a warm-weather essential that's made for every meal and every occasion under the sun.
Do you love to entertain? Get guest-ready with our 9-piece outdoor dining sets, which offer plenty of elbow room and accommodate elaborate family-style spreads. These large-scale sets work best in a sprawling backyard or on a spacious deck.
Consider a round outdoor dining table set if you're working with a smaller space, as it takes up less room than its square and rectangular counterparts. Built with our exceptionally durable and fade-resistant POLYWOOD lumber, these round dining sets are great for open-air entertaining from dawn till dusk.
Not sure how to design your outdoor space? We're here to help. Check out our suite of digital tools that can guide you through the planning process based on your unique style and layout.
Let's Get Started

Where to Enjoy Your Outdoor Dining Sets

Bring the breakfast nook outside by designing a cozy dining spot on your front porch, perfect for meal breaks throughout the day or enjoying good food and drinks with friends.
From that first cup of coffee to a post-swim sangria, every day feels like vacation when you have a bar-height dining set in the backyard or by the pool.
Outdoor spaces come in all shapes and sizes, but no layout gets left behind with our selection of tables in various sizes.