Coffee and Accent Tables
Today's forecast: sunny with a side of style. Designed to work in unison with our lounge and dining collections, our accent tables come in handy whenever and wherever you need them.

In everything we do, we work to create beautiful outdoor furniture that's easy to maintain and easy on the planet. Every product is carefully considered and expertly engineered for enduring quality, endless comfort, and all-season durability. Our weatherproof styles are perfect for decks, patios, poolsides, beachfront properties, and balconies in any climate, any time of year, making them a forever fixture in your outdoor space.
Made using sustainable materials, including landfill- and ocean-bound plastics, genuine POLYWOOD lumber helps keep our waterways clean and our greener pastures green for future generations. Together, we can take good care of our collective outdoor space too.
"Perfect complement to POLYWOOD's Adirondack chairs and loungers. These have held up well to Florida's seasons."
Long Island 18" Side Table, purchased April 2022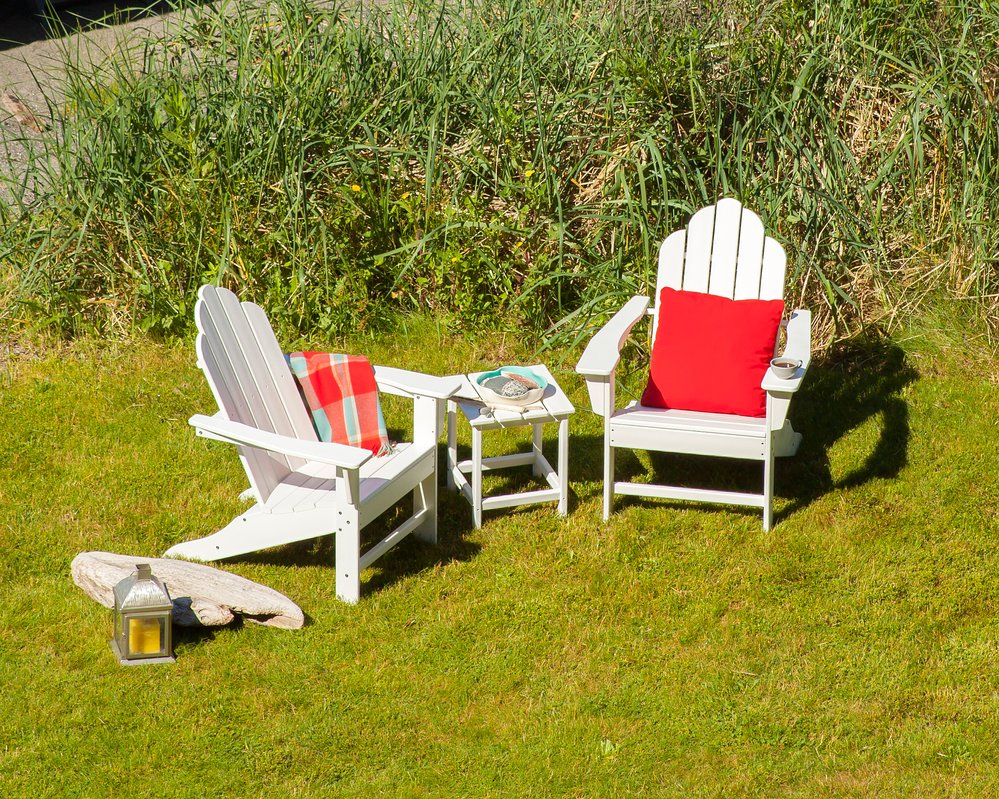 We offer outdoor tables that span the color spectrum, so finding the perfect one for your space is a breeze. From sun-kissed neutrals and dark, modern hues to vibrant tones inspired by nature itself—there's something to suit every palette and preference. Thanks to our Color-Stay Technology, the pigments won't lose their vibrancy even after years of time and use.

Whether you live in a humid coastal area, arid desert climate, or somewhere that sees all four seasons, our accent tables endure every element. Sun rays, snowstorms, salt, and heavy winds have officially met their match.
No coasters? No problem. Our lumber is highly resistant to water rings and staining—just an occasional wipe down or spray off will drastically prolong the life and good looks of your POLYWOOD pieces.
Industry-leading Warranty
You can truly kick back and relax knowing that your coffee, end, or side tables will last—season after season after season. All of our products are built with the promise of longevity and backed by a 20-year warranty.
How to Style Outdoor Coffee Tables
The focal point of any outdoor living room, patio coffee tables are prime real estate for decor that speaks to your personal style. From the rule of thirds to the power of layering, we've got all the tips, tricks, and inspiration for designing a coffee table vignette—one that's both practical and pretty.
Depending on the amount of sun and moisture exposure your outdoor area gets, you can display small potted plants and weather-resistant objects, such as cast-iron sculptures or glass vases with seasonal filler. You also can't go wrong with a tray for tea service and fresh-cut florals.

Is POLYWOOD recycled plastic?
Genuine POLYWOOD lumber is made from sustainable materials—including landfill- and ocean-bound plastics—at our state-of-the-art manufacturing center. For an in-depth look at our recycling process, take a peek at this video.
Does white POLYWOOD stain?
Just like all of our color options, White POLYWOOD lumber resists stains and cleans easily with soapy water and a soft-bristle brush.
Can POLYWOOD stay outside in the winter?
Yes, POLYWOOD repels moisture and is weighted to withstand strong winds, so your furniture can stay outside all winter long without worry.
Does POLYWOOD look like wood?
While all of our lumber features a wood-like texture, our Vintage Finish is made with a deeply grained pattern to give it the richness and character of matte painted wood.
Can you power wash POLYWOOD?
Yes, you can use a power washer (with a maximum 1,500 psi) to remove tough stains set into the lumber's texture. Then, just give it a good scrub with a soft-bristle brush and rinse clean.
Your POLYWOOD lumber should not be sanded, as this may scratch or otherwise blemish the surface and, as such, void the warranty. Luckily, our HDPE material is so durable it doesn't need to be sanded or refinished.

More Outdoor Accent Tables & Coordinating Furniture

How to Decorate a Patio by Size
From small, cozy alcoves to areas with enviable square footage, patios come in all shapes and sizes. With plenty of planning and a dash of creativity, you can turn whatever location you're working with into your dream alfresco destination.
Read the Blog