Outdoor Lounge Sets
There's no better way to completely relax with the ones you love in your outdoor space than when you're reclining on a POLYWOOD® chaise lounge set that comes complete with a complementing side table.
Why POLYWOOD?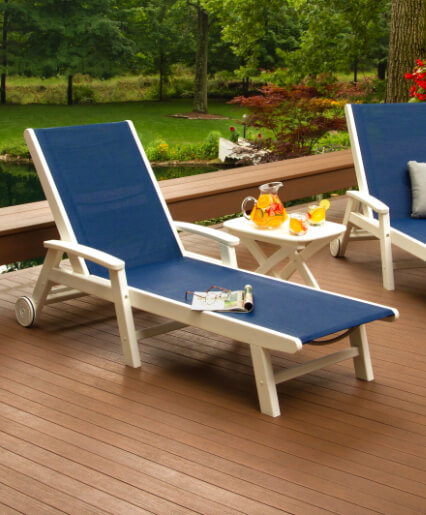 Good experiences are made better when they're shared, which is why POLYWOOD outdoor chaise lounge sets fill so many outdoor spaces. Our outdoor chaise lounge sets of two are the perfect representation of relaxation as they are the combination of the best parts of a chair and a sofa. Warm, sunny days are best enjoyed from the comfort of a chaise lounge, cocktail time is enhanced when conducted on chaise lounges, and a good conversation with a friend becomes great when words are exchanged while reclining on our chaise lounges.
Our outdoor chaise lounge sets are versatile and stylish. They can easily fit in many different settings that range from casual to formal. Since a variety of our outdoor chaises are constructed from durable HDPE lumber, they're not only unrivaled in style, but their craftsmanship and durability are also unmatched. No matter where you live or what your style preferences are, you'll be able to find a chaise lounge from our selection that will serve you well year after year.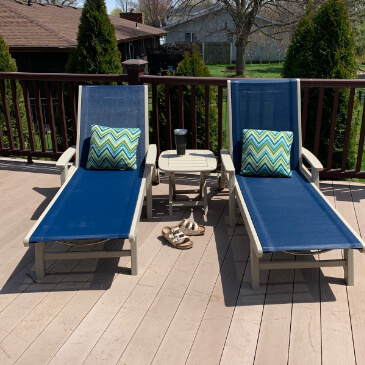 "These have been a perfect addition to my deck. Super comfortable and dries quickly."
Outdoor Chaise Lounge Set Features

Weatherproof
Every POLYWOOD outdoor chaise lounge chair set can handle harsh environmental and weather conditions such as salt spray, humidity, beating sun, torrential rain, frigid winters, and more.

Low Maintenance
Our outdoor chaise lounge sets never need to be painted, stained, or waterproofed since they are made using our genuine POLYWOOD lumber and other durable materials.

Durability
We stand behind our 20-year warranty that comes with any chaise lounge set that's constructed from genuine POLYWOOD lumber.

Sustainability
We transform landfill-bound and ocean-bound plastic into genuine POLYWOOD lumber every day, which is used to construct many of our outdoor lounge chair sets.
Even More Chaise Lounge Set Features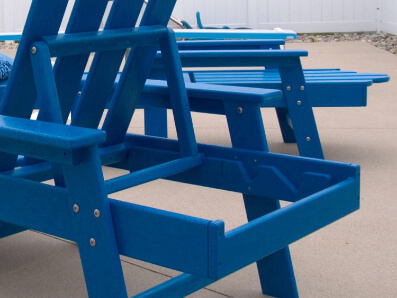 Foldable
All POLYWOOD chaise lounges have adjustable backs so you and a companion can lie flat and soak up the sun or sit up and enjoy a few cocktails together. You can pick the perfect reclining position on the Long Island Chaise 3-Piece Set.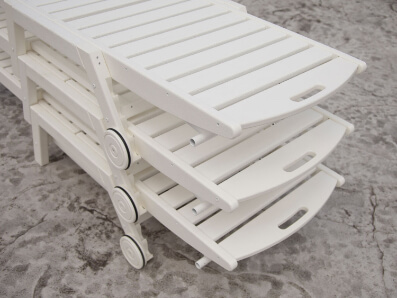 Stackable
Many of our chaise lounge sets, such as our Nautical 3-Piece Chaise Set, are stackable which is a great space-saver when you need to store your set.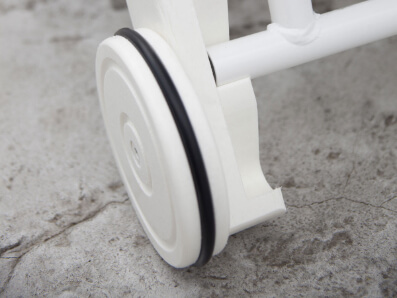 Wheels
If you need to move your outdoor chaise lounge set, wheels make maneuvering them easy! The Coastal 3-Piece Wheeled Chaise Set will look great in your outdoor space no matter where you move it.
Chaise Lounge Set Reviews
We love a good review! Check out what other customers are saying below:


Quality Product
Easy to put together! Nice quality. Looks great!


Heavy duty furniture
Very nice quality furniture. Very durable and heavy.


Perfect
We couldn't have asked for a better set!! Loving our new chaise lounges!!!
Where to Enjoy Your Outdoor Lounge Sets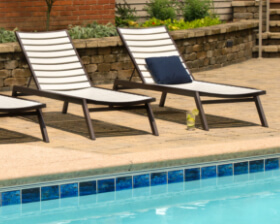 By the Pool
Outdoor lounge furniture is a must if you have a pool in your backyard. Relaxing on one of our three-piece pool chaise lounge sets with your spouse while you watch your kids swim is the perfect way to spend a summer day.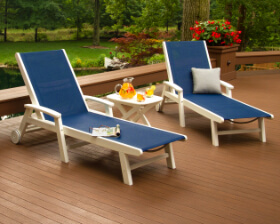 On the Patio
Whether you're taking in some sun during the day with a close friend or stargazing at night with someone special, our patio chaise lounge sets are perfect for staying comfortable and close to loved ones.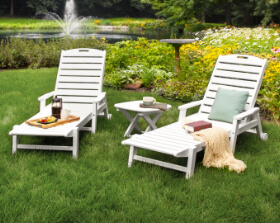 Overlooking Your Garden
Take in the scents and sights of your beautiful flower garden from the comfort of your outdoor garden lounge set. It's a sensory experience that can't be beaten.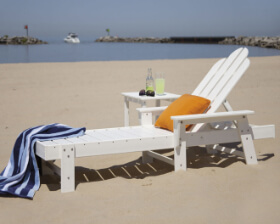 At the Beach
Imagine you and a close friend relaxing on your comfortable three-piece chaise lounge set with a cooler filled with your favorite beverages at your side, watching the surf meet the sand. It really doesn't get much better than that.
Outdoor Chaise Lounge Set Colors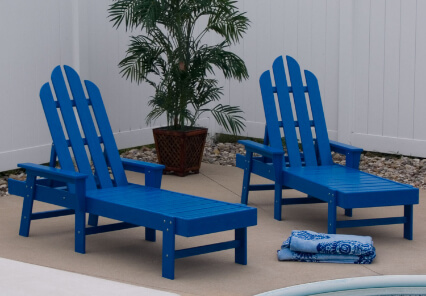 The POLYWOOD team understands that you want your outdoor chaise lounge set to not only be easy to relax on but be easy on the eyes as well. Our genuine POLYWOOD lumber comes in:
With all these available colors, we're able to meet all of our customers' varying tastes. We blend UV inhibitors and stabilizers into our HDPE lumber so the color you love will stay vivid and beautiful year after year. From bright white to warm and welcoming mahogany to smooth slate grey, there's a color that will fit your style needs perfectly.
Cusions for Your Outdoor Chaise Lounge Sets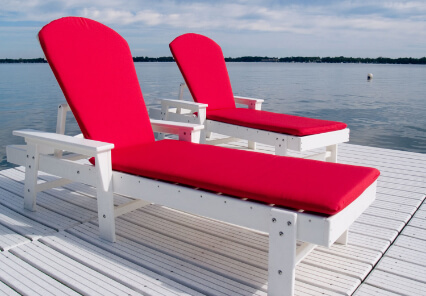 If you want to add even more comfort to your experience with our chaise lounge sets, take a look at our collection of outdoor cushions. All of our cushions are covered with soft, outdoor performance fabric, making them water-, fade-, and stain-resistant. Our cushions come in a variety of colors and textures as well so you can pick just the right shade or pattern to match the color of your chaise lounge set.
click here to see our chaise lounge cushions