Bar and Counter Sets
Browse our wide assortment of outdoor bar and counter sets to find the perfect addition to your open-air kitchen or patio bar. With so many styles available, there's no shortage of possibilities.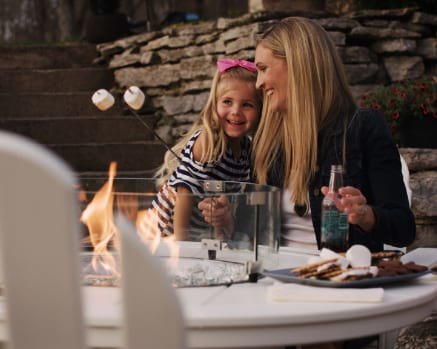 You want outdoor bar sets to be comfortable, stylish, long-lasting, sustainable, and easy to maintain. It's a tall order, but our furniture was designed to meet your expectations. All the outdoor patio bar table and chair styles you love are carefully designed and endure rigorous testing, so they'll look and feel as good as new for years to come. We also build our outdoor bar furniture with durable and earth-friendly high-density polyethylene (HDPE) lumber that's made from sustainable materials including landfill-bound and ocean-bound plastic.
Using POLYWOOD outdoor bar tables and chairs at your family gatherings is a great way to reduce the stress that often accompanies party prep. Our patio bar sets are designed to make life easier for you because outdoor entertaining should be fun, not frustrating.
"This furniture is well constructed, attractive, durable, and comfortable. And it is made in AMERICA! We chose the white color and are more than pleased. My husband had no difficulty putting it together. Thank you for helping us enjoy our outside!"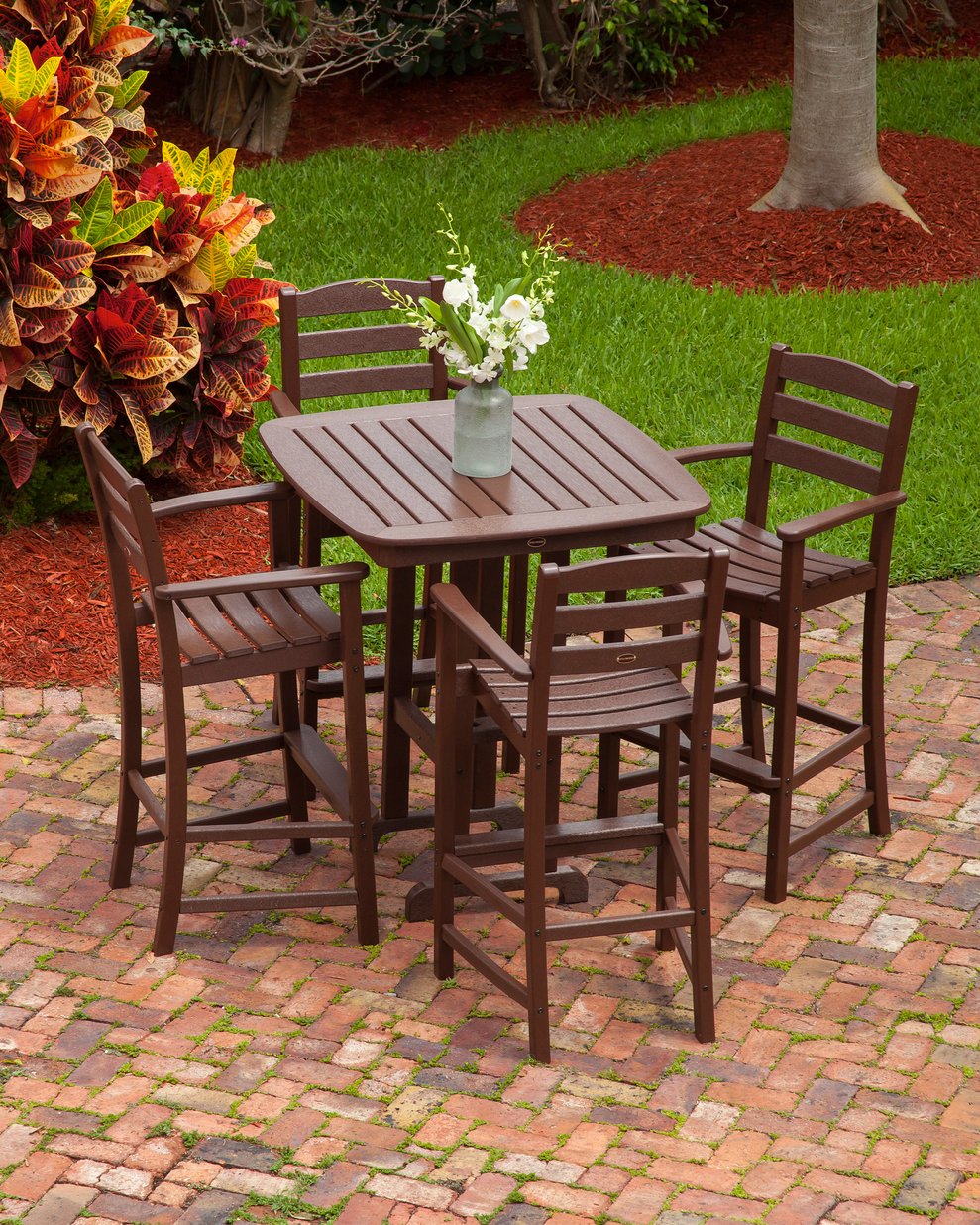 Patio Bar Dining Set Colors

We made sure to offer a variety of color options for all of our outdoor bar sets so you can pick the hue that fits you. Want a relaxing aesthetic for your balcony? Try pairing a high-top bar table with swivel chairs in Slate Grey with coordinating seat cushions in our light blue Glacier Spa shade. If you want a more lively look in your backyard, set up a White square bar table and pull Lemon or Lime bar chairs around it.

POLYWOOD bar-height outdoor tables and bar chairs can handle harsh weather and outdoor elements. Torrential rain, snowstorms, humidity, pollen, and heavy winds won't damage these sturdy home furnishings.
Our outdoor bar-height table and chair sets never need to be painted, stained, or waterproofed, and you don't have to take any extra steps to make the furniture comfortable.
You deserve to enjoy worry-free outdoor living. A 20-year warranty covers every patio bar-height table and chair that's made using our genuine POLYWOOD lumber.
If you live in an urban area, the size of your outdoor space is limited. However, this doesn't mean that your style options are restricted. With a bit of creativity and careful planning, you can turn your balcony into a fashionable and functional space.
The first — and probably most important — step you should take is measuring your space. Having these dimensions gives you an idea of how much room you have to work with and will help you down the road when deciding on a use for the space as well as furniture size.
For more inspiration, take a look at these balcony design ideas to find out how you can get the most use out of your small outdoor space.

What is the difference between bar height and counter height?
Bar-height tables measure between 40 to 42 inches tall. Bar chairs and stools have seat heights that range between 28 to 33 inches. Counter-height tables and seating are shorter, with tables measuring between 34 to 36 inches and counter stool and chair seat heights ranging from 24 to 27 inches.
How tall is a balcony-height table?
Balcony height is the same as bar height, so balcony-height dining tables are tall and measure between 40 to 42 inches from floor to tabletop.
Can I use POLYWOOD furniture on the shallow ledge of my pool?
Yes, you can style your POLYWOOD outdoor furniture on the shallow ledge (also called a Baja shelf or tanning ledge) of your swimming pool. To keep your furniture in perfect condition, we recommend removing your furniture from the pool when you're finished using it and rinsing it off with clean water to remove any chemically-treated water. Otherwise, you risk damaging the HDPE material and stainless steel hardware, voiding your warranty.
Are your bar-height sets UV resistant?
Yes, all of our patio bar-height tables and chairs are UV-resistant. We blend UV-inhibited pigment systems and fade-resistant colorants into our genuine POLYWOOD lumber, protecting the material and preventing the color from going dull.

Types of Outdoor Dining Sets

Dine in the sunshine. With spacious tabletops and supremely comfortable seats, our outdoor dining sets are a must-have for enjoying meals and moments alfresco.
The Complete Guide to Buying an Outdoor Bar or Counter Set
Searching for the perfect bar or counter set for your outdoor living space? Use our comprehensive buying guide to help you find exactly what you're looking for.
Bar and Counter Set Buying Guide