Bar and Counter Seating
Everyone has their own idea of what the perfect outdoor entertaining area should look like. To ensure we meet the varying tastes of our customers, the POLYWOOD team has designed a variety of bar- and counter-height seating options that will look great in your poolside bar, open-air kitchen, or outdoor dining space.
62;
Quick Ship Colors!

Quick Ship Colors!

New!
Why Polywood?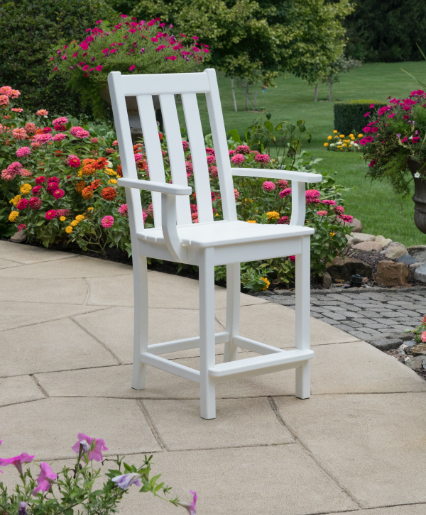 POLYWOOD's extensive selection of outdoor counter stools and outdoor bar chairs lets our customers fill their porch, deck, or patio with all-weather pieces that fit with the theme of their outdoor space. From contemporary counter-height outdoor chairs that your family can relax in for weeknight meals, to charming outdoor bar stools that your friends can sit on while they watch you mix your famous margaritas, you're sure to find a sophisticated seating option that meets your unique needs.
Our bar- and counter-height stools and chairs are all constructed from genuine POLYWOOD lumber, which includes recycled HDPE (high-density polyethylene) plastic. HDPE plastic is durable, long-lasting, and nearly impervious to outdoor elements and environmental stressors. This means our outdoor bar stools and outdoor counter chairs can handle extreme weather conditions and exciting parties without a problem year after year.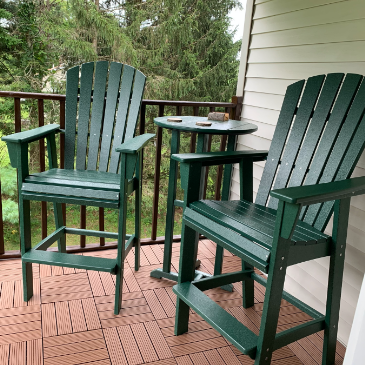 "I bought two chairs and a table. Both arrived within a week or two. All items were boxed and in great quality. Each item came with all items including screws and a special screwdriver. It took 2 people under an hour to put together all items. I recommend pre-screwing a hole before lining up the parts. A great product and company. I didn't have to contact the company about a thing."
Outdoor Bar & Counter Stools & Chairs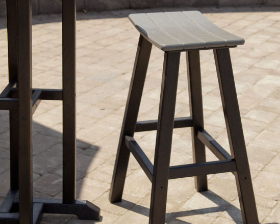 Outdoor Bar Stools
Outdoor bar stools are space-saving seating options that fit well in many alfresco settings. They feature a slimmer design yet still maintain durable construction. POLYWOOD patio bar stools have no arms or backs, allowing them to be easily slid beneath a coordinating bar-height bistro table for a tidy, organized look. Our outdoor bar-height stools are made with high-quality materials and can handle repeat use season after season.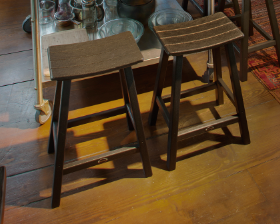 Outdoor Counter Stools
Outdoor counter-height bar stools are that "just right" height when you want seating that saves space, but you don't want to sit too high. POLYWOOD offers a variety of outdoor counter-height stools that pair with our wide selection of counter-height tables. Our outdoor counter stools have no backs or arms, allowing for freedom of movement so you can sit in comfort.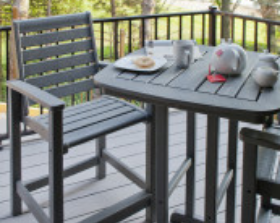 Outdoor Bar Chairs
POLYWOOD bar-height patio chairs can elevate any outdoor dining experience — literally and figuratively. Our bar-height outdoor chairs combine generous comfort with extensive height so your guests can relax and enjoy their beverage of choice at your next backyard barbecue. Patio bar chairs are great for taller individuals and for when you want to make the most of limited dining space.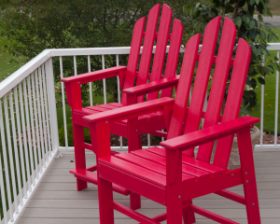 Counter-Height Outdoor Chairs
POLYWOOD counter-height outdoor chairs can be found in open-air dining spaces all over the country and beyond. They're slightly shorter than outdoor bar chairs and have backs unlike outdoor patio counter and bar stools. Gather a few of these chairs around a coordinating counter-height table from one of our collections to create a sophisticated set that you can enjoy in any season.
Outdoor Bar & Counter Stool Features

Weather Resistance
All of our outdoor seating options are built to live in outdoor spaces. Our outdoor bar and counter stools and chairs can handle harsh weather conditions and environmental stressors without any issues.

Low Maintenance
The genuine POLYWOOD lumber that's used to construct all of our furniture is easy to care for. It never needs to be painted, stained, or waterproofed, and it won't ever peel, chip, or splinter.

Sustainability
Our bar and counter stools and chairs are constructed from genuine POLYWOOD lumber, a durable material that's made from recycled ocean-bound and landfill-bound plastics.

20-Year Warranty
POLYWOOD bar and counter seating options come with an extensive 20-year warranty. We proudly stand behind this warranty because we believe in our product.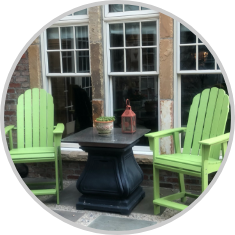 "The Polywood counter height bar stool is exactly what we wanted...very comfortable and very happy with our purchase!"
Outdoor Bar & Counter Stool Colors
To create a visually appealing outdoor space, you'll need to think about color coordination for your decor — this includes your larger pieces like tables and chairs. We offer our bar and counter seating options in a variety of fade-resistant colors that will complement your outdoor space. Whether you want black outdoor bar stools for your contemporary poolside bar or white counter chairs to enhance the charm of the cozy breakfast nook on your porch, there's a hue that will work for you.
Types of Patio Bar Stools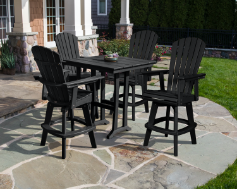 Outdoor Swivel Bar Stools
Bar-height swivel patio chairs are not only an attractive addition to your outdoor space, but they also offer freedom of movement. Your guests can easily get into or out of our outdoor swivel bar stools and they can feel comfortable in a variety of ways. We offer a diverse array of patio bar stools swivel to meet your style and comfort needs.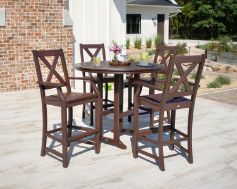 Outdoor Bar Stools with Backs
You can rest your weary bones after a long work week in one of our outdoor bar stools with backs or our outdoor counter-height stools with backs. All of our outdoor seating options are designed with your comfort in mind so you can use our furniture to create your ideal relaxing outdoor experience.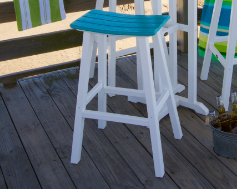 Outdoor Backless Bar Stools
If you want to save space in your outdoor area, consider our outdoor backless bar stools. Our bar and counter stools easily slide beneath tables and bar tops, allowing you more space for many activities.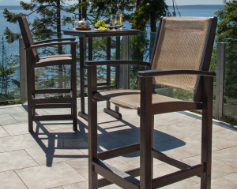 Outdoor Bar Stools with Arms
POLYWOOD outdoor bar stools with arms and outdoor counter-height bar stools with arms let you experience full-body relaxation. Gather a few stools with arms around an outdoor table to create a set where everyone can have head-to-toe comfort.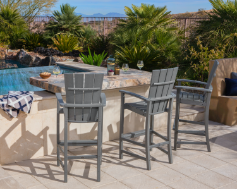 Modern Outdoor Bar Stools
If you favor clean, straight lines and appreciate homages to minimalism, then our modern outdoor bar stools will meet your style needs. Our contemporary bar and counter stools and chairs can complete the look you desire for your outdoor space.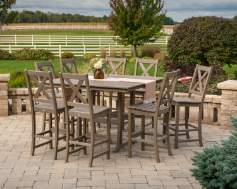 Bar Stools & Chairs Sets
Add a POLYWOOD bar-height outdoor table and chairs to your outdoor space to give your guests a stylish spot to relax any time of year. Our bar-height patio table and chairs sets are available in a variety of fade-resistant colors and eye-catching designs, and all of our bar-height patio sets with swivel chairs are low-maintenance and weather-resistant.
Furniture Reviews
We love a good review! Check out what other customers are saying below: