Adirondack Chair Sets
Enhance the look of your outdoor space with the casual comfort and superior construction of a POLYWOOD® Adirondack chair set. We match our attractive Adirondacks with complementing side tables, ottomans, conversation tables, and more to ensure you can have head-to-toe comfort no matter what your design needs are.
Why POLYWOOD?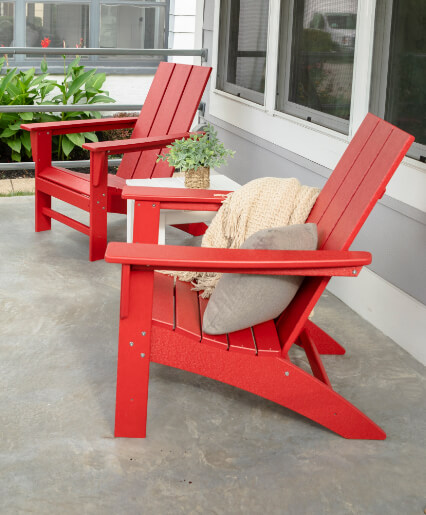 POLYWOOD is proud to provide you with comfortable and attractive Adirondack chair sets that you and your family can use to connect, relax, and make memories together. Constructed from genuine POLYWOOD lumber, our Adirondack chair sets are unequaled in durability and craftsmanship. Our lumber is made from high-density polyethylene (HDPE) plastic, which is strong and long-lasting so you can look forward to enjoying your outdoor Adirondack set for years to come. Our inviting Adirondack sets will elevate the look of your porch, patio, or deck so you can relax in style.
POLYWOOD Adirondack chair sets are available in a variety of styles and each set includes different pieces that fit our customers' varying tastes and needs. You may find that two Adirondack chairs paired with a side table on your front porch is just the right fit, or a fire pit table surrounded by enough Adirondacks to seat your entire family is what you need. Whatever your vision is and wherever you live, we have the perfect Adirondack chair set for you.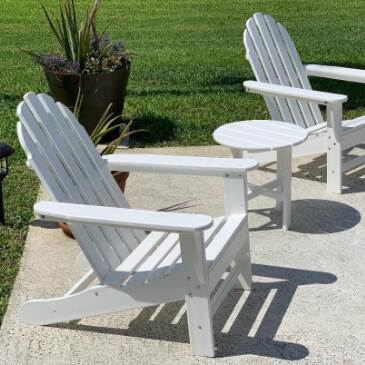 "In Florida, you need high-performance outdoor patio furniture, and Polywood's quality can stand the test of time and sun exposure unlike sets made of aluminum or steel. Polywood is maintenance free as well except for washing them down once a year as needed. Hight quality hardware, the easy assembly will equal years of enjoyment. I will be buying more pieces soon as we switch out older patio furniture."
Types of Adirondack Chair Sets
Adirondack Set Styles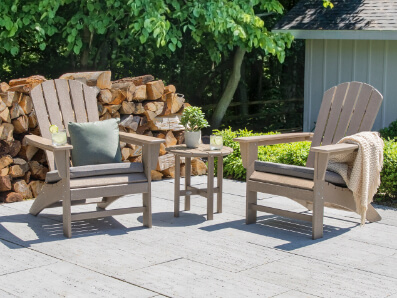 Traditional
Our traditional Adirondack sets pay homage to the original 1904 design with the spacious seats and five curving slats in the backrest, but we made some updates by refining the aesthetic and adding well-placed curves and contours to enhance relaxation. Take a look at our Classic Adirondack and Palm Coast Collections to see the traditional Adirondack chair and table sets that we offer.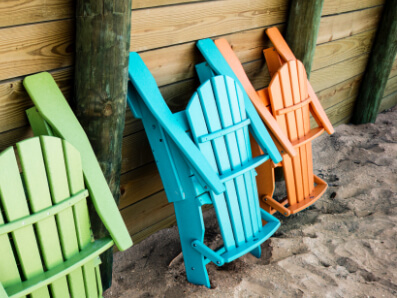 Folding
Folding Adirondack chair sets are ideal for any outdoor living space. They can be conveniently moved from your front porch to your back deck when you want a change of scenery, and when you're not using them you can fold the Adirondacks up and store them with ease. The Classic Adirondack and South Beach Collections showcase several folding Adirondack sets that you can choose from.
Adirondack Chair Set Features

Weatherproof
All POLYWOOD Adirondack sets can stand up to stormy weather, blizzard conditions, sweltering heat, salt spray from the ocean, and other environmental stressors.

Low Maintenance
Our Adirondack sets are constructed from genuine POLYWOOD lumber, which means they all clean up easily with soap and water and never need to be painted, stained, or waterproofed.

Durability
The genuine POLYWOOD lumber that's used to create our Adirondack chair sets is backed by a 20-year residential warranty.

Sustainability
Every day we're transforming landfill-bound and ocean-bound plastic into genuine POLYWOOD lumber which is used to make our vast assortment of Adirondack chair sets.
Adirondack Set Colors
Our outdoor Adirondack table and chair sets come in a variety of colors from calm mahogany to vibrant tangerine so you can pick the shade that fits the personality of your outdoor space. The choices are further extended with our Vintage finish options that add an extra element of style to your outdoor space. We blend UV inhibitors and stabilizers into our HDPE lumber, so the bold crimson reds and the earthy slate greys you adore will remain beautiful season after season.
View All Color & Finish Options
Adirondack Set Reviews
We love a good review! Check out what other customers are saying below:


Exceptional Quality
The quality is exceptional! POLYWOOD went together perfectly, easily, and is a very sturdy set.


Love!
These chairs finish off my deck beautifully, I love the color! Assembly was super easy.


A must buy!
Love our new fire pit! Easy to assemble and great quality! Chairs are comfortable too!
How to Enjoy Your Adirondack Chair Set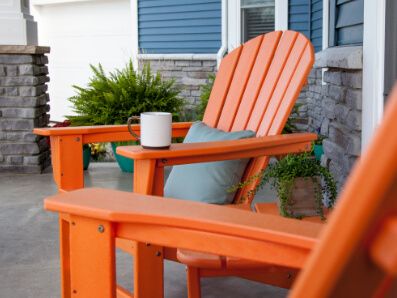 Morning Coffee on the Patio
Start your day sipping coffee and enjoying the comfort of a 3-piece Adirondack patio set complete with a side table. Lean back and relax as you watch the sunrise all while having a convenient spot to place your mugs and tasty scones.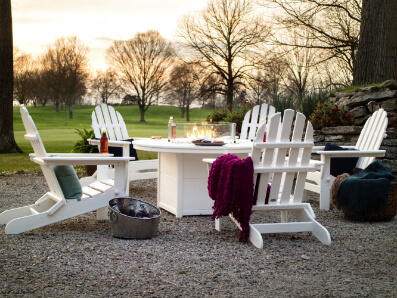 Friends Gathered Around the Fire
A fire pit with Adirondack chairs surrounding it is just what you need to make your next party more personable and relaxing. Comfortable Adirondack chairs gathered around a low-maintenance fire pit table makes for the perfect setting where you and your friends can celebrate & relax together.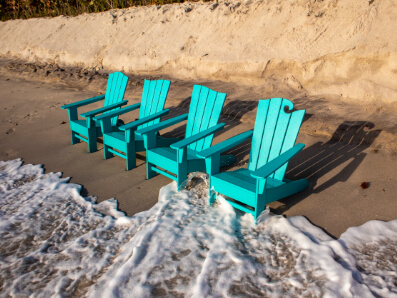 Watching the Tide Roll Away
Placing a folding Adirondack chair set right on the beach and letting the waves wash over your toes while you enjoy a cocktail seems like a pretty great idea, right? You can make this idea a reality year after year with a POLYWOOD folding Adirondack chair set.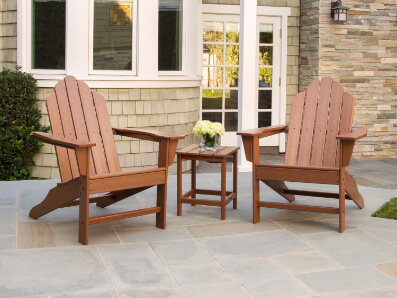 Front Porch Reading
Set up an Adirondack chair set of two on your front porch so you can have a relaxing spot all to yourself where you can read a good novel. You'll be so comfortable you won't have trouble staying immersed in your page-turning book for hours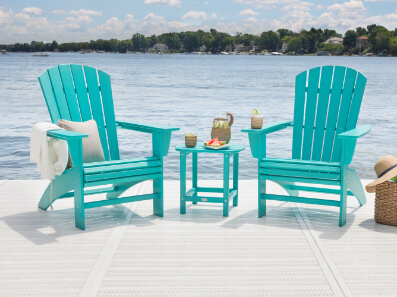 Watching the Sunset over the Lake
If you have a deck on your lakehouse, an Adirondack tête-à-tête set will give you and a loved one front row seats to one of nature's greatest performances. After the sun has disappeared below the horizon, you can lean back and stargaze while listening to the waves tumble onto the shore.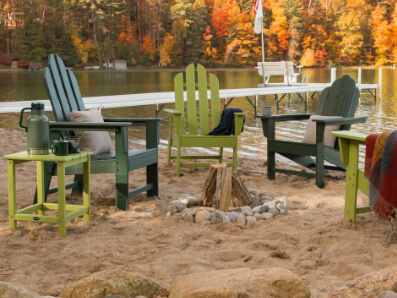 Cozy Up at Your Cabin
A secluded cabin in the middle of the woods or high up in the mountains needs an all-weather Adirondack set so you can sit outside with your family in comfort and enjoy all that nature has to offer no matter what season it is.