9 Piece Outdoor Patio Dining Sets
Variety is the spice of life, so we make sure to always have a wide assortment of nine-piece outdoor dining sets for you to choose from. Take a look today to find your dream dining set.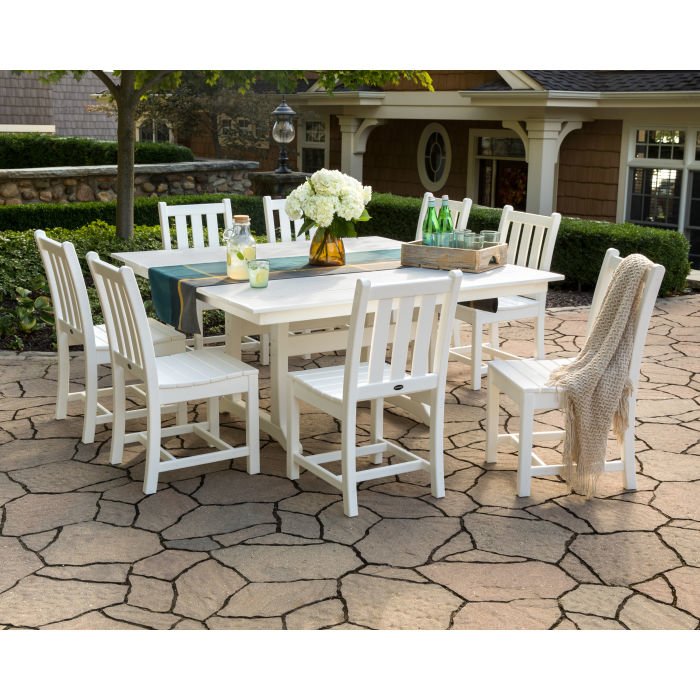 More seats at the table mean more room for family and friends, and more room means more chances for making memories. With a POLYWOOD nine-piece outdoor dining set, there's more to love.
When you choose one of our patio dining sets for your home, you're bringing comfort and style to your outdoor space for family to enjoy year after year. That's because we use the highest quality materials, design standards, sustainability practices, and testing protocols when we design and build your outdoor furniture. From the first sketch to the finished product, you can trust POLYWOOD to help you love your outdoors.
"Our table and chairs came just as promised and everything was perfect. Putting the legs on the table was the only assembly and it's so well made! Sturdy and beautiful! We're looking forward to enjoying this with our friends and family for many years!"
Purchased December 21, 2021

9-Piece Patio Dining Set Colors

All POLYWOOD outdoor dining furniture and accessories are available in a variety of colors, so you can style your space to suit your decor and taste. Pick a dining set in neutral lumber colors like Sand and Teak for a calming effect and use seat cushions in corresponding hues such as Dune Burlap. Or consider a dining set in White to add a crisp and polished vibe to your space with Sky Blue cushions to create a cheerful, nautical-inspired setting. You could also add drama to your space by pairing darker lumber colors such as Slate Grey for the dining table with vibrant seating options such as Crimson Red dining chairs.

Genuine POLYWOOD® lumber, a durable and sustainable material made using landfill-bound and ocean-bound plastic, is used to construct every dining table and chair we offer.
There's no need to worry about salt spray, humidity, blizzards, sun exposure, and other environmental and weather conditions damaging your dining set. POLYWOOD® patio furniture is built to handle harsh outdoor elements.
We proudly stand behind our products. Every dining table and chair we build using genuine POLYWOOD® lumber is backed by our 20-year warranty.
How to Measure Your Outdoor Space
POLYWOOD nine-piece dining sets are on the larger side, so if you're considering adding one to your outdoor area, make sure you have enough room before you make the purchase. Find out how much room you have in your outdoor space by getting outside and measuring it.
First, make a rough sketch of your property. Then write down the measurements of all the boundaries and elements (swimming pool, trees, your house, etc.) on the property. Recheck your numbers, then make a final draft and highlight each place you think would make great options for outdoor dining.
To get detailed, step-by-step instructions on how to properly measure your outdoor space, read our in-depth guide.

How do I choose the best outdoor furniture collection?
Choose an outdoor furniture collection that fits your style preferences, budget, and outdoor space needs. If you're not sure what you want yet, use our online outdoor planning tools to help you figure out what your style is and which furniture fits your space and tastes.
How long is an eight-person dining table?
POLYWOOD® rectangular tables that seat eight people are typically 44 inches wide and 96 inches long. Our square eight-person dining tables are about 59 inches on each side.
Do you have nine-piece sets with umbrellas?
While our nine-piece dining sets don't include umbrellas, all our outdoor dining tables are equipped with center umbrella holes. We sell umbrella and base sets, so when you order a POLYWOOD® dining set, add one of our patio umbrellas to your cart.

Types of Outdoor Dining Sets


The Complete Guide to Buying an Outdoor Dining Set
Still can't decide on what type of Adirondack chair to buy? Check out our comprehensive guide to choosing the perfect outdoor Adirondack chair for your patio or backyard over on the blog!
View Dining Set Buying Guide